I've been using Twitter for around a year and have found it to be an indispensable source of professional contacts and information. Although I highly recommend the use of Twitter, the point of this post is not to proselytize. Twitter is however a fantastic mechanism for measuring "the pulse" on any subject, event or person. People follow others with like minded interests and Twitter accounts with large followings therefore reflect opinions that have highly regarded value. So it occurred to me recently;

Which Twitter accounts attract the greatest amounts of followers?

Those accounts would represent the opinions that millions of users hold as being the most important and influential. Would they include Dr. Stephen Hawking, the most well known scientist of our time? Could you find a famous author such as Toni Morrison or even JK Rowling? What about a popular news service like CNN or the New York Times? Given the nature of its digital medium and audience, there must be a good chance that the most popular Twitter accounts would include technology giants such as Bill Gates and Steve Jobs ... surely?

I'm sure you've already figured out that none of those names appear on the list of the most followed Twitter accounts. So, do you want the good news or the bad news?

The good news: The President of the USA, Barack Obama, is listed among the most followed accounts.

The bad news? He's in third place behind Lady Gaga and Justin Bieber!

In fact, according to one list of the most followed Twitter accounts, President Obama is the only person in the top 20 that isn't a celebrity or sports figure. And that's not an anomaly. Check the latest search trends on Yahoo or Google at any given time and you'll almost certainly see evidence of our obsession with celebrity and gossip.

How does that impact us as educators? Part of our mandate as educators must be to engender a sense of civic pride and responsibility among students. We would hope to be mentoring a generation of politIcally and socially aware citizens. Further, the rapid expansion of instant communication systems has led to the growth of interconnected, global communities and industries. Globally conscious citizens see past the needs of their immediate society and have a sensitivity for issues that impact people and society worldwide. And while she may be a talented entertainer, I'm not sure that Lady Gaga should be our most prominent source for that flavor of world news and opinion.

One of the strengths of the iPad is the ease with which it allows users to communicate - with people and information. If you have iPads in your classroom then students can be instantly connected to a wide variety of sources for important opinions about worldwide events. Integrating vibrant and relevant discussions about events of real significance is a relatively simple process. Here are just a few suggested ways that use popular iPad apps and sources: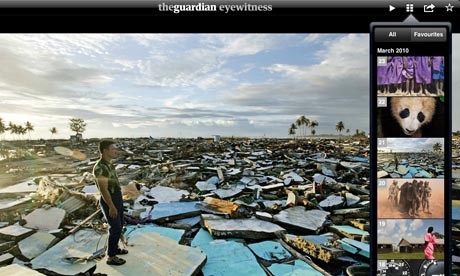 - News images are a great way to spark interest in current events (which then makes it easier to get students to read the articles afterwards). Use apps such as Reuters Galleries, Guardian Eyewitness, ABC News, BBC news or News360 to get the most current images and videos relating to news events of the day. A compelling visual will go a long way towards generating interest and can spark discussion and interpretation.
- The Newsy app will present multiple stories relating to the same event. Compare and contrast the potentially different viewpoints.

- Have you ever wondered how differently news events are reported and interpreted in other countries? Go to google.com on your browser and click to use the Advanced Search option on the right of the search box. Enter your search term (eg. Obama) and then go down to the section tagged "Date, Usage Rights, Region and more". Click on the plus sign to open that section and scroll down to the "region" prompt. Try selecting a country such as Iran to get search results restricted to sites within that region. You'll get a totally different perspective on news which can be tremendous fodder for discussion and debate.


- Get customized news feeds using apps such as Zite and Flipboard. You nominate the sources and areas of interest and they scour your sources every day for news items that may interest you. The best part is that as you "like" any article or news source, the app learns to provide additional, related articles thereby constantly refining and customizing the content to your specific taste. Both Flipboard and Zite work extremely well when used in conjunction with one or more class Twitter accounts although they aren't required.

- Using the Twitter iPad app, sign up for a class Twitter account and have groups of students follow different people or organizations. Every day or two you could have each group review their appropriate Twitter feed and report any interesting news to the class. For starters, consider some of the following: @cnnbrk (CNN breaking news), @NASA, @natgeosociety (National Geographic Society), @pbskids, @nytimes, @globalwarming (Global Warming News), @wired, @engadget and more. Each source contains a flow of interesting news, facts and opinion. You can also follow interesting news figures such as politicians and journalists.

- Follow specific "hashtags" on Twitter. For example, a search for the hashtag #Taliban would display Twitter posts about the Taliban from any and all sources. Be forewarned however - as opposed to following a specific news feed account such as CNN, search results come from a wide variety of accounts and therefore aren't "vetted". This can be both refreshingly surprising but can result in some inappropriate posts on occasion.

- Create a class magazine from news sources. Using your class Twitter account, have students find and retweet any news of interest. Configure an app such as Flipboard so that one section represents the feeds from the class Twitter account - then as you open Flipboard every day it will have a detailed and formatted class news magazine. You could split the class into groups and have each group create a Flipboard magazine section with a different news theme.

What ideas can you add to bring research and discussion about current affairs into your classrooms?


Sam Gliksman
Email: samgliksman@gmail.com
Twitter: @samgliksman